If you belong in that
half of the Internet
that visits Google every day, you'll probably have noticed by now that the search engine (really? just a search engine?) got a makeover today.
Yet again.
This time, Google's changed their color theme, and not just to make the blue lighter or the shadows more subtle. No, they seem to have turned completely around. Instead of the light blue-on-white we've been so used to for so long, the new colors are deep orange and dark gray—exact opposites of what had been there for months!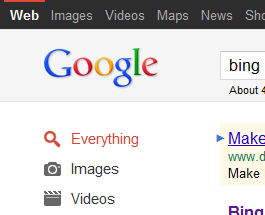 And remember back when Google tested those horrible
blue buttons
? They've brought it back, for good. But now, instead of a massive, glaringly blue bar with bright white text, it's a plain blue button overlaid with a magnifying glass: the
centuries-old symbol
of searching and finding answers. Put
that
with the sharply opposing colors of blue and orange, white and dark gray, and it looks ... surprisingly beautiful.
Somehow Google's managed to do it right, again. With all these new changes, after adding all sorts of blatantly contrasting tweaks that would surely have spelled disaster for anyone less capable of making a UI, they've turned out something brilliant. Just like they've done since
forever
. Heck, if you think about it, even their logo—that
universally recognized banner
that dominates the home page—is asking for trouble. It
spans the entire spectrum
, using four colors with lights and shadows on each. And yet for twelve years it's been there, perfectly appropriate on a page that's otherwise nearly blank.
So what's changed now? Besides the new toolbar colors and the blue search button, there are also some subtler changes in how the results page is laid out. The logo and search bar are now clearly separated from the actual results section, for example, and the top section now has a faint gradient (which actually isn't a gradient at all but a
light gray background
that looks progressive because of the other things around it). The results page isn't the only part that's changed, either; the
Google home page
seems to have shrunk, and the company links that once appeared right below the search bar (the links that didn't matter) have been moved to the bottom of the page, padded with whitespace and out of the way. Turns out Google didn't turn in the other direction. They're going the same way they've always gone, toward simplicity. That's what I love about this search engine, especially when some wicked twist of fate forces me to use
Yahoo! search
.