Five and a half years since Google
announced its plan to "destroy all information [it] can't index"
and four months since the official start of the project (with the first
book burnings
), the search engine giant is showing signs that it is ready to take the next step in the massive undertaking.
The project, known as Google Purge, was a project aimed at making "the world to be as simple, clean, and accessible as the Google home page itself," according to CEO Eric Schmidt in his official mission statement. As said in this
article by a prominent news source
, the first milestone would be to destroy all copyrighted materials inaccessible to Google. This involved several book burnings, the most significant of which was the burning of first-version copies of
Operation Dark Heart
by the Pentagon, which reportedly is one of Google's military branches.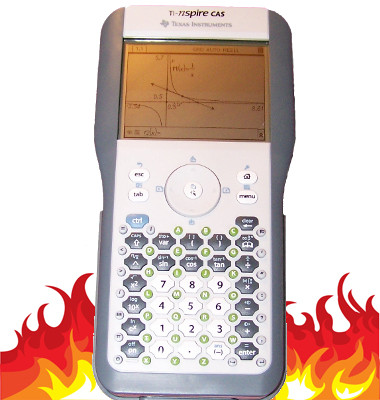 Though the Purge has not finished eliminating inaccessible books, Google seems ready to take on another part of the world of copyrighted information, this time in the form of private RSA encryption keys. This morning, Google sent a letter to educational technology giant Texas Instruments demanding the release of the RSA keys used on their Nspire line of calculators. The letter also contained the alternative: that all Nspires sold or being sold around the world would be confiscated and destroyed if the keys aren't released. "Keys are information, after all," said a company spokesperson. "And if we want all the information in the world easily accessible and searchable on Google Search, we need to have this information. It's that simple."
Texas Instruments had expressed concern about the program, even before Google's letter arrived. "Some things we need to keep private. It's business." One of the these areas of privacy lay in TI's RSA encryption of all its calculator models (with the notable exception of the
TI-Ncourage
). Some of this "privacy" was destroyed last year by third-party developers as they cracked the RSA keys one by one, but TI seems to be unwilling to give in, as seen when it encrypted its TI-Nspire line with a 1024-bit RSA key—far beyond the reach of modern computers.
"This is a chance for us to finally write unlimited third-party software for these calculators," said an independent Nspire developer. "Google's doing the right thing this time." Sure enough, Google is living up to its new motto:
Don't be evil, unless it's necessary for the greater good.